COMPANY
MECAMONT HYDRO, established in 1981 and taken over by Hervé BLANCHARD in 1990, is based in LANNEMEZAN, in the south-west of France, close to the A64 Toulouse to Bayonne motorway. In 2008, Hervé BLANCHARD was rejoined by his younger son, Nicolas, a mechanical engineer like his father.
Based on our experience gained over the last 25 years MECAMONT HYDRO has extended its range of work to meet the ever-changing needs of its clients and the market.
The company's initial experience, gained in the field of cableway installation and maintenance, has given it a solid base on which to build, enabling it to develop new parallel activities in the field of hydroelectric plants, industrial sites and urban and work-site cable-car transport.
In 2009, Hervé BLANCHARD formed a sister company "TCB", taking over the activity previously run by TES, part of the ARCELORMITTAL group, and employing four of its former technicians. TCB's main activity is specialised work on steel cable installation in France & abroad. http://www.tec-cables.com/fr/
The firm's premises are situated on the steel cable fabrication site of ARCELORMITTAL, in Bourg-en-Bresse, in the Ain (01) region of France.  Hervé BLANCHARD is manager.
The joint management of MECAMONT HYDRO and TEC CABLES BOURG, is founded on strong ethical values and a well-tested management system, combining their complimentary expertise to confirm their position in French & world markets.
Both companies can operate independently or jointly depending on the work involved.
Although the company has expanded, MECAMONT HYDRO still retains the focus and strong motivation of a small local enterprise.
1980 - Creation of Mécamont

Workshop designed for ski lift repair work

1990 - Take over of Mécamont by Hervé Blanchard. the company becomes Mécamont Hydro

Diversification of the historical maintenance of ski lifts to include industrial maintenance of ski lifts to include industrial maintenance in the Lannemezan catchment area

1995 - Partenariat with the Bombardier Group

Mécamont becomes Commercial and Technical Agent for the Pyrénées
2000 - Bombardier leaves the European market

This is followed by a severe drop in industrial activity in the area

2008 - Restructuration

Reorientation of company strategy towards Hydroelectric plant maintenance

2009 - Creation of TEC CABLES BOURG

Tec Câbles Bourg

2014 - 2015 - Modernisation

Modernisation of our workshops and launch of a new R&D program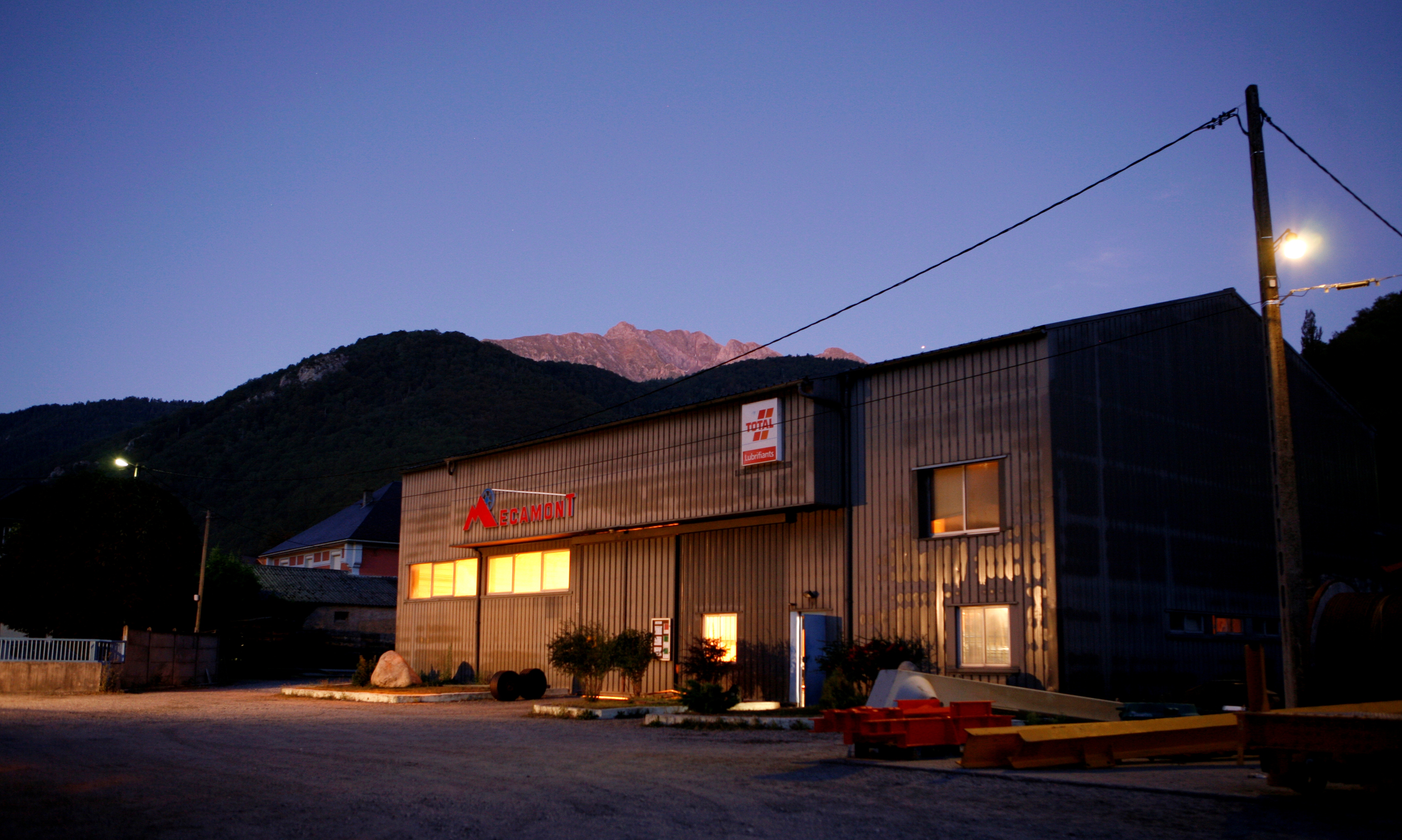 OUR TEAM
MECAMONT HYDRO despite the growth and diversification of its activities, remains a family-run, personal company. Today, MECAMONT HYDRO boasts 65 permanent employees offering a wealth of complementary skills – designers, mechanical engineers, technicians, mechanics, welders, machine operators, automation technicians, overhead cable work specialists etc.  – all qualified, experienced & highly motivated. Most of the extra temporary workers taken on in peak season have worked for MECAMONT HYDRO before, so know the company, its working practices and high standards.
"SAVOIR FAIRE". Our workforce has the skills and qualifications to handle practically every situation in the field. It includes licensed HGV drivers, trained fork-lift and high-rise cradle operators, licensed asbestos workers and qualified electricians. Over 50% of this workforce are trained First Aiders and volunteer firefighters.
"SAVOIR ETRE". The company encourages staff to apply common sense alongside specialist skills to every work situation.
MECAMONT HYDRO offers a top class comprehensive service.
ACCREDITATION
Based on the ISO 9001 standard, MECAMONT HYDRO was first accredited ISO 9001 in 1994, a first in their line of business at the time, in France. We are proud to announce, that the last renewal audit took place in October 2015, where we obtained the ISO 9001 standard under the new 2015 Version – the 7th company in France to have been awarded it!
Our Health and Safety management system is based on the OHSAS 18001 reference, and the French MASE professional practices framework. An accredited certification of our Health and Safety management system is planned for September 2016.
Our environment and sustainable development management system is based on the ISO 14001 and 26000 norms; an accredited certification of our Environment and Sustainable Development management system is planned for 2017.
Our QUALITY, HEALTH & SAFETY  AND ENVIRONMENT POLICY.
OUR VALUES
OUR COMMITMENT
MECAMONT HYDRO is above all a responsible corporate, looking to the future, committed to sustainable development and to social and environmental issues.
Dynamic and resourceful, MECAMONT HYDRO are able to offer a reliable top class service with innovative solutions, delivered on-schedule to your specification. Our accredited ISO 9001 Quality Management system (qualified since 1994) and our Health & Safety policy demonstrate our commitment to reliability and safety for customers and staff.
MEN AND WOMEN
Today, MECAMONT HYDRO is a 65-strong highly motivated team, with varied and complementary professional competencies and backgrounds, rich both socially and culturally. Equal-opportunity is one of our strengths: even in this field of work, 15% of our staff are women.
Our in-house development naturally integrates disabled people and their adaptation to everyday company life is made as easy as possible.
A SKILLED TEAM
MECAMONT HYDRO's development and opening up of new markets relies on a long-term training policy acquiring new skills, building on existing ones and the intergenerational transfer of knowledge.
We favour apprenticeship training and our extensive annual training program closely follows company strategy, health and safety issues and staff requests. Every year we devote between 2.5% and 4.5% of our payroll to specific training activities – technical, health and safety, management skills, are just a few. This is real proof of just how much we value the development of our employees' skills.
MECAMONT HYDRO value the « Savoir-Faire », this combination of expert knowledge & skills, and cultivate it to give us the edge in a competitive market, develop new markets and state of the art technologies.
A VOCATION FOR SERVICE
MECAMONT HYDRO has a gained a reputation over the years for technical competence, 24/7 responsiveness and the quality of its work, even when the going gets tough and the logistics are complicated. From father to son, this reputation will be continued.
Particular attention is paid to health, safety & environmental issues with strict observance of the different rules and standards which apply to the profession. Whether it's a planned operation or an emergency situation, whatever the weather or the adverse conditions, the same rigorous safety measures are applied.
Our Technical Support Department deals with the preparation, the logistics and the traceability of the work, all in accordance with current regulations and industrial standards.
Sustainability and Responsible Business Practice
As MECAMONT HYDRO continues to grow, the company remains committed to sustainability & responsible business practice.
The health & safety of our personnel, courtesy and consideration for others, saving energy and waste-recycling are standard practices at MECAMONT HYDRO, exemplified by work-place ergonomics and staff initiatives such as frequent safety-checks and car-sharing. All this is part of our policy in favour of social cohesion & long-term success.
INFRASTRUCTURES ET MOYENS
INFRASTRUCTURES
Dotée de nouvelles infrastructures en début 2016, MECAMONT HYDRO s'est installée sur un site d'environ 50 000m², dont 1 000m² de bureaux et 5 000m² d'Ateliers couverts.
MECAMONT HYDRO VOUS PROPOSE
Dotée de nouvelles infrastructures en début 2016, MECAMONT HYDRO s'est installée sur un site d'environ 50 000m², dont 1 000m² de bureaux et 5 000m² d'Ateliers couverts.
Bureaux
BUREAUX
800m² de bureaux modernes – 3 salles de réunions, un Bureau d'Etudes équipé de logiciels CAO (Solidworks 3D), de bureaux spacieux et accueillants, favorisant les échanges d'information entre les services.
Salle de métrologie
Une Salle de Métrologie
 Une salle de métrologie, équipée d'une large gamme de matériel de contrôle :- Matériel de contrôle dimensionnel traditionnel- Bras Faro- Station topographique de relevé 3D TOPCON- Equipement complet pour les serrages contrôlés :- Clés dynamométriques et banc de contrôle- Electrique PLARAD- Hydraulique HYTORC- Tendeur ENERPAC- Dynamomètre 2 à 50T- Tensiomètre- Appareil de mesure vibratoire- Ligneur laser PRÜFTECHNIK- Ligneur de courroie- Caméra endoscopique
Magasin
Magasin
Un magasin, fortement pourvu de :

Outillages et équipement de levage et de manutention, (tirfors, palans, pullifts, mordaches, manilles, élingues…)
Treuils, Cabestans, Dérouleuses pour travaux sur câbles, dédiés aux opérations lourdes et héliportages gros porteur.
Matériel important de reprise de tension gros tonnage
Matériel électroportatif important (perceuses, meuleuses, visseuses électriques, machines HILTI pour forages et scellements…)
Groupe de découpage ARCAIR
Postes à souder adaptés TIG-MIG et onduleurs
Centrale ENERPAC avec vérins 5T – 10T – 12T – 20T – 30T – 50T – 60T – 95T
Groupes électrogènes 4kVA – 6kVA – 10kVA – 12kVA
Presse à élingues Ø4  à  Ø20
Chauffeur magnétique SKF de roulements
Stock de pièces pour réducteurs (roulements, joints pignons, arbres…)
Stock de consommables chantiers
Stock de câble de Téléski ARCELORMITTAL
Huiles et Lubrifiants TOTAL.
Moyens roulants
Moyens roulants
Un large parc de véhicules, comprenant véhicules légers, pick-up, utilitaires et camions grues (4X4, 6X6 et 8×8) et bennes, et de matériel roulant, viennent compléter ces équipements.
1 Camion grue 28 T (MAN 4×4)- 1 Camion grue 70 T (MAN 8×8) avec jib
1 Camion grue 23 T (Mercedes 6X6)
1 Camion grue 26 T (MAN 4×4)
1 Camion benne  (Mercedes 6X6)
3 Dérouleuses et Treuils hydrauliques pour
déroulage de câbles (4,10 et 20t)
4 Véhicules utilitaires Intervention rapide
4 Pick-Up  4X4 à Plateau
5 Véhicules 4X4
2 Fourgons  4X4 Break
3 Engins de manutention (Manitou)  Manuscopiques
1 Tracteur ISEKI
1 Remorque surbaissée 12T
Installations Blondin 4 à 10 t :

1 treuil GW350, capacité de tir 15t max
1 treuil HSW130, capacité de tir 10t max ;
1 treuil HSW80, capacité de tir 6t max ;
1 Chariot BACO, CMU 4T en single, 6T avec palonnier ;
1 Chariot GCS60, CMU 6T
1 Chariot GC100 , CMU 10T
WORKSHOPS
 MECAMONT HYDRO's new workshops provide you with state-of-the art facilities:
Workshop n°1
SURFACE TREATMENT
Equiped with:
 Shot-blasting cabin Capacity : 8 x 4 x 4,5 Free Jet
Paint booth Capacity : 6 x 4 x 4,5 Heated
Computerised Paint contrast preparation and laboratory
20 T bridge crane
3,2 T bridge crane
Workshop n°2
ASSEMBLAGE – DEMANTLING (large)
7,5 T bridge crane
Three 3,2T bridge cranes
Workshop n°3
GENERAL MECHANICS
10 T Bridge Crane
3,2 T Bridge Crane
Horizontal Drill Ø700 thickness 1500
Horizontal Drill Ø500 thickness 3000
Metallisation Drill Ø500 thickness 1500
Metallisation stand length 10000
Milling Machine HURON MU55
Gantry CNC Milling Machine  KAFO 4100-2200-1100
Orientable heads
Table 4000 X 2100
Load capacity 15T
Work piece probes
Pillar and Radial Drills GSP
10T Press
30T Press
Gearbox step-up and step-down test bench
Bearing induction heater
Workshop n°4
WELDING AND BOILER
WaterJet-cutting Machine MECANUMERIC
4000 bars
4m X 2m
Maximum thickness 190mm
Punching Machine  80T  GEKA Hydrocrop 80S
Band Saw Cutting Ø maximum 300mm
Folding Press 4m   160T   4 Axis GUIMADIRA
Plasma cutting 85A
Air Arc 500A
TIG Welding Station   AC/DC  350A
3 MIG Welding Stations  500A
Bridge Crane CMU  3,2 T
Bridge Crane CMU  17 T